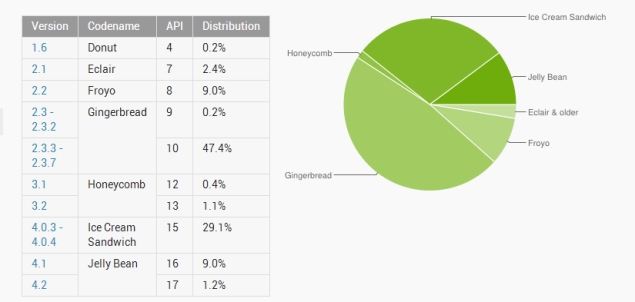 Google has shared the monthly Android distribution data, and if you had money on Jelly Bean hitting the 10% mark, it's time to claim your share of the winnings.
As per data released on 3 January 2013, Jelly Bean now accounts for 10.2% of devices, with Ice Cream Sandwich (Android 4.0.x) now present on an impressive 29.1% of the devices. Gingerbread (Android 2.x) is still going strong, but is finally below the 50% mark for the first time since reaching that milestone.
Android 2.2 and 2.1 together stay above the 10% mark, at a combined marketshare of 11.4%, down from 13% last month. With no upgrade path for most of these devices, the reduction is likely down to people finally ditching their old devices in favour of new ones.
While Jelly Bean hitting 10% mark may seem like good news, it's not all rosy if you look closer. With Jelly Bean having come to represent two different Android versions - Android 4.1 and Android 4.2 - there's further fragmentation, with Android 4.1 accounting for 9% of the devices, while Android 4.2 being present of 1.2%. In other words, hiding behind that over 10% figure for Jelly Bean is the fact, that only 1.2% of Android devices are running the latest Android version.
Contrast that with the iOS world, where barely a week after iOS 6 was released, over 50% of iOS devices worldwide were running the latest version of Apple's OS.